About Us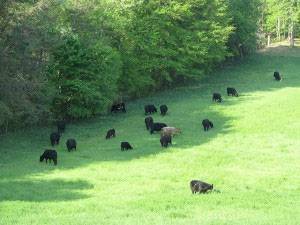 Here at Big Hickory Farms, we have five generations of family members working together to provide the Greater Atlanta area with the best grass-fed beef available. Big Hickory Farms was founded in 1970 by Alvin and Joan Hicks and it has continued to grow with every coming generation. Alvin and Joan are now enjoying retirement, but still play a role in the everyday organization of the farm. They have passed the torch over to their daughter, Judy Stepp, for the daily operating decisions and overall physical needs of the 100+ acres. Judy is assisted in the daily operations by her children Loren and Ashley, and her son-in-law Tyler. Together, five generations make up a deep-rooted history of hard work and passion for farming.
"Grass-Fed Beef, the Big Hickory Farms Way"
We continue to improve our land and herd management by adopting the best practices in nutrition, health, safety and overall welfare. We graze our livestock in pasture rotations, thus breaking the life cycles of parasitic organisms. By gently working with, not against, our animal's environment, we've had great success overcoming parasite burdens in our livestock. Our grass-fed animals are never reared in crowded, unhealthy conditions, so they do not suffer from many aliments commonly associated with larger corporate livestock units.
The inclusion of growth promoting substances such as hormones, antibiotics and heavy metals in livestock feed rations, have become acceptable practices for some farm operations. Other farms simply do not realize that the livestock feeds they purchase from farmers co-ops contain these non-organic substances. At Big Hickory Farms, we believe that it is hard to improve upon nature, therefore we choose to utilize a natural approach to feeding and maintaining our livestock. By raising our cattle naturally, we completely avoid any unnecessary health stresses on our cattle. From mid-April to early December, our cattle graze on premium pasture, eating a lush mix of Fescue, Rye and other grasses. In the wintertime, the cattle are fed fresh cut hay. We believe that giving our animals the very best in living conditions, gives you the best grass-fed beef. Our hard work and care translates into the finest grass-fed beef you've ever eaten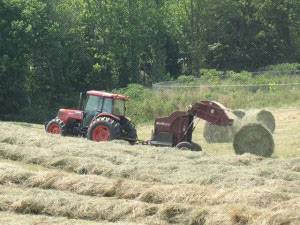 Soil quality, animal husbandry, water protection, co-habitation with wildlife, grass production and healthy food are just some of the inseparable elements of Big Hickory Farms. Our objective is to produce and sell naturally flavorful grass-fed beef in ways that are good for the land we farm, good for the animals we raise, and good for our customers. If you are looking for the highest quality, grass-fed beef you can buy, Big Hickory Farms is for you.
Beef Quality Assurance
Big Hickory Farms is Beef Quality Assurance certified! The Beef Quality Assurance is a national program that provides guidelines for beef cattle production. Big Hickory Farms is certified by this program which raises consumer confidence through offering proper management techniques and a commitment to quality. The program requires the producer to work with cattle quietly and calmly, so cattle are not scared or panicked, and they do not view a trip to the barn as a dreadful event.